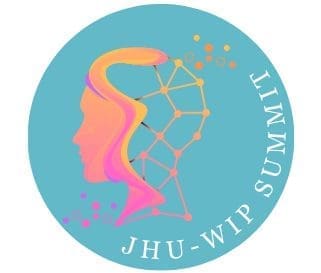 The Women in Physics group at Johns Hopkins University (WiP @JHU) announce their first annual Women in Physics Summit, scheduled for 9AM-6PM Saturday, September 9th, 2023.
About the Summit:
This event is crafted to celebrate and foster connections among women in physics across various career stages within the Maryland/DC region. Our objective is to create a vibrant forum to highlight the significant research carried out by women in physics and related disciplines, along with enabling networking and collaborative opportunities.
Participation Opportunities:
We cordially invite members and affiliates of our institution to actively participate in this summit. We are seeking poster contributions, and we encourage departments to provide posters that illustrate the specific areas of research they focus on. Additionally, we invite individual researchers to present posters showcasing their unique research projects, equity efforts, mentoring initiatives, and more. The poster session will offer an excellent platform for undergraduate students and early-career researchers to share their summer research findings.
Location and Attachments:
The summit will be hosted at Johns Hopkins University's Bloomberg Center for Physics and Astronomy.
Registration:
You may confirm your attendance by completing the registration form at the following link: Registration Form
Questions:
If you have any questions or want to know how you can be involved, don't hesitate to reach out: jhu.wip@gmail.com
---
Program:
Registration: 9:00AM

Welcome remarks with bagels and coffee: 9:15AM

Session 1: My Journey as a Woman in Physics
10:00 AM to 11:00AM:
Dr. Paule Sonnentrucker (ESA/STScI) and Prof. Dr. Rosemary Wyse (JHU)

TEA BREAK
11:00 AM to 11:15 AM

Panel discussion
11:15 AM to 12:15 PM
Panelists include: Prof. Dr. Yaojun Zhang (JHU) and Dr. Elena Manjavacas (STScI)

LUNCH BREAK
12:30 PM to 1:30 PM

Getting to know your local women in physics
Departmental introductions 1:30PM to 2:00PM

Session 2: Career Paths in and out of Academia
2:30 PM to 3:30 PM
Dr. Stefanie Milam (NASA) and Ms. Julie Crooke (NASA)

TEA BREAK
3:30 PM to 3:45 PM

Panel discussion
4:00 PM to 5:00 PM
Panelists include: Dr. Roshni Rao (JHU), Dr. Alice Cocoros (JHU-APL) and
Michelle Tseng (Maryvale)

5:00PM
POSTER SESSION
WINE & CHEESE RECEPTION
Closing remarks 6:00 PM
---
Local Organizing Committee:
– Arshia Jacob (ajacob51@jhu.edu)
– Carrie Filion (cfilion@jhu.edu)
– Isu Ravi (iravi1@jhu.edu)
– Juliana Jaime (mjaime2@jhu.edu)
– Lara Cullinane (lcullin4@jhu.edu)
– Neha Anil Kumar (nanilku1@jhu.edu)
– Nicole Crumpler (ncrumpl2@jhu.edu)
– Tiffany Soetojo (tsoetoj1@jhu.edu)

Funded in part by APS